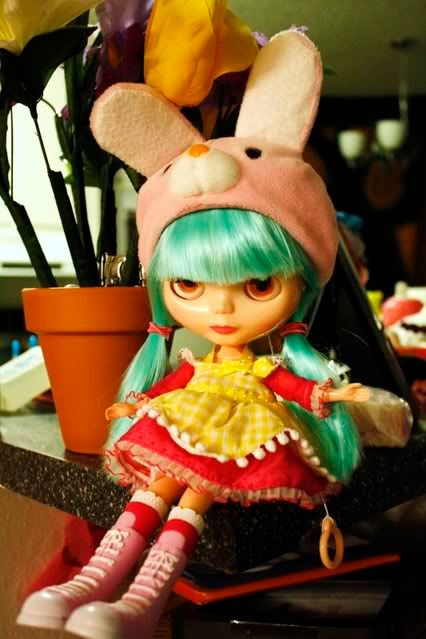 Hello everyone,
My name is Astrid and I'm a Blythe clone. I get a lot of hate because I'm just a fake so I've developed this poutyness to my look. At least my owner tells me I'm always looking grumpy. Well you'd be grumpy too if everyone hated you for what you are. Well not everyone, obviously not my owner. She thinks I'm tons of fun and cares enough to want to know more about me. <3>
My favorite color is grey but I like to wear alot of pink and purple. Pink and grey outfits are the best though. I hope I get some new outfits soon. *nudges owner*
I like getting a change in hairstyles but mostly I Like when my hair is shades of blue.
I like rainy days and I prefer going out late in the evening, the times right before it gets dark are the best. I love watching TV, I just got a new shelf spot right in front of the TV so I'm very happy about that. My owner has me hooked on Dexter. I like it when she sits me down on the couch so we can all watch it together. I'm not really a pet owner kinda of doll, but I do think lap dogs are so cute. I love to go shopping at second hand shops and I enjoy tea time with the other dolls. My favorite season is winter because I love iceskating. I'm exited for the park down the street turning into an ice ring! I hope we get to go several times.
I tend to be very cautious and all I really search for is some peace. I like quite times.
Even though I tend to suppress my personality I do love to go out and I'm easy to get along with. If you take the time to get to know me I think you'll agree.